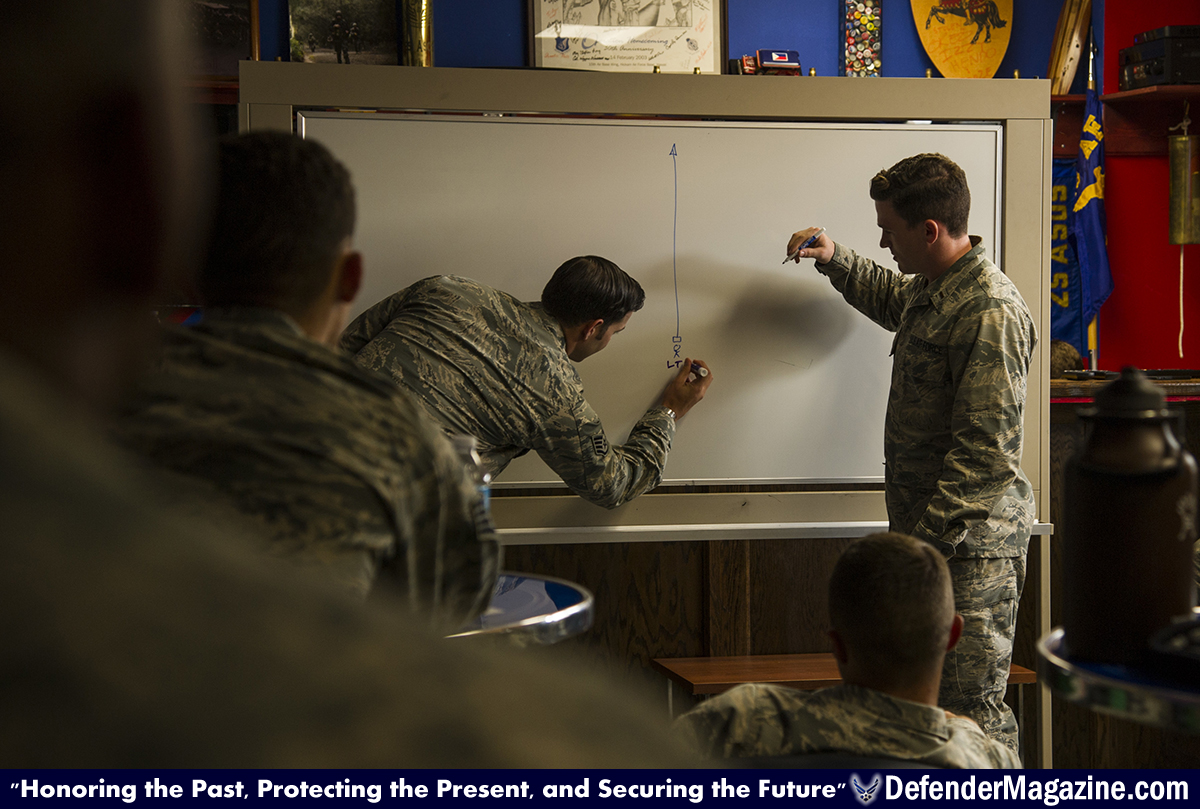 08/03/2017 – JOINT BASE PEARL HARBOR-HICKAM, Hawaii—Security Forces Airmen and the 25th Air Support Operations Squadron joined forces to increase base defense capabilities across the Pacific Air Forces area of operations, Schofield Barracks, Hawaii, July 31-Aug. 4. 
Throughout the week, Security Forces Airmen from bases throughout the Pacific will be trained by Tactical Air Control Party Airmen on how to call in close air support 9-lines, a standardized briefing used to pass information between a controller on the ground and an aircraft. 
According to Col. Jon-Paul Mickle, Headquarters Pacific Air Forces Engineering and Force Protection directorate, the training will increase base defense capabilities by training Security Forces Airmen to call in 9-lines for close air support at their local installations.
"Our goal for this training event is to address air base defense challenges and close capability gaps by utilizing our resources already in place to call in emergency close air support," said Mickle.
The Air University's Curtis E. Lemay Center defines close air support as an air action by fixed and rotary-winged aircraft against hostile targets that are in close proximity to friendly forces and that require detailed integration of the aircraft with the fire and movement of those forces.
Currently, targeting for close air support can coordinated using a variety of equipment based methods or, special operations forces.
The idea to train security forces Airmen on how to call in a 9-line for close air support developed while Mickle was the 51st Security Forces Squadron commander at Osan Air Base, South Korea.
"While I was in Osan we had an exercise, during which opposition forces started taking over the flightline," said Mickle. "Throughout the exercise we were able to secure the flightline, but it got us thinking about new ways we can utilize our Airmen to defend our bases."
In the U.S. Air Force, security forces is the largest career field. It is responsible for defending air bases.
According to Chief Master Sgt. Carlos Rosa, Joint Base Security 2 security forces manager, training security forces Airmen to call in a 9-line for close air support would benefit base security by taking advantage of available manning.
"If an attack was to occur on base, support from special forces operators would be limited," said Rosa. "Special forces have less manning and are in high demand all over the world. Security forces on the other hand is the largest career field in the Air Force and are available at all times. Having security forces supplement special forces would increase base defense."
The increase in qualified Airmen who are trained to call in a 9-line for close air support would help further the Pacific Air Forces' mission to deliver rapid and precise air capabilities to protect and defend the United States and its territories.
"With tensions rising in the U.S. Pacific area of operations, we cannot assume that our assets will always be safe," added Mickle. "Our legacy as the U.S. Air Force is that we haven't lost an aircraft to a ground attack since Vietnam, and we're going to do everything in our power to uphold that legacy."
Story by Tech. Sgt. Heather Redman,
15th Wing Public Affairs
Tech. Sgt. Jarred Fischer, 25th Air Support Operations Squadron, teaches Security Forces members from the Pacific about Theater Air Control Systems and Army Air Ground Systems during a week-long close air support familiarization course, Schofield Barracks, Hawaii, July 31, 2017. The course is designed to help increase base defense capabilities by training Security Forces Airmen to call in 9-lines for close air support at their local installations. (U.S. Air Force photo by Tech. Sgt. Heather Redman)
Staff Sgt. Evan Barnhart and 2nd Lt. Reace Hudgeons, 25th Air Support Operations Squadron, teach Security Forces members from the Pacific about Terminal Guidance Operations during a week-long close air support familiarization course, Schofield Barracks, Hawaii, Aug. 1, 2017. The course is designed to help increase base defense capabilities by training Security Forces Airmen to call in 9-lines for close air support at their local installations. (U.S. Air Force photo by Tech. Sgt. Heather Redman)
Tech. Sgt. Jarred Fischer, 25th Air Support Operations Squadron, teaches Security Forces members from the Pacific about Theater Air Control Systems and Army Air Ground Systems during a week-long close air support familiarization course, Schofield Barracks, Hawaii, July 31, 2017. The course is designed to help increase base defense capabilities by training Security Forces Airmen to call in 9-lines for close air support at their local installations. (U.S. Air Force photo by Tech. Sgt. Heather Redman)