CMSgt Chalma Lee Sexton, Jr. USAF (Retired)
3218 Heatherbrook Drive
Haughton, LA 71037-9332
The Honorable Deborah Lee James
Secretary of the Air Force
1690 Air Force Pentagon
Washington, DC 20330-1670
18 August 2014
Dear Secretary James,
I am returning my Air Force Security Forces Museum life membership card.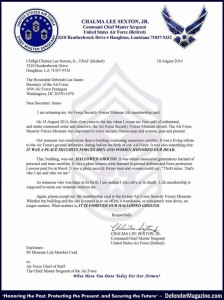 On 15 August 2014, forty-four years to the day when I swore my first oath of enlistment, and under command order and directive, the Air Force Security Forces Museum closed.  The Air Force Security Forces Museum was important to every security forces man and woman, past and present.
Our museum was much more than a building containing numerous exhibits.  It was also something else.
IT WAS A PLACE SECURITY FORCES MEN AND WOMEN HONORED OUR DEAD.
This, building, was our, HALLOWED GROUND. It was where successive generations learned of personal and team sacrifice.  It was a place lessons were learned in ground defense and force protection.  Lessons paid for in blood.  It was a place security forces men and women could say, "That's mine.  That's who I am and who we are."
As someone who was there at its birth, I am sadden I was alive at its death.  Life membership is supposed to mean our museum outlives me.
Again, please accept my life membership card to the former Air Force Security Forces Museum.  Whether the building and the site is turned in to an office, a warehouse, or completely torn down, no longer matters.  What matters is, IT IS FOREVER OUR HALLOWED GROUND.
Respectfully
CHALMA LEE SEXTON, JR.
Command Chief Master Sergeant
United States Air Force (Retired)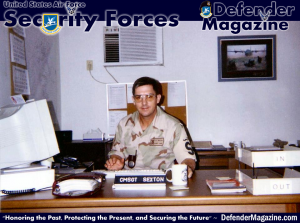 Enclosed:
SF Museum Life Member Card
cc:
Air Force Chief of Staff
The Chief Master Sergeant of the Air Force