K-9's Lead the Way
Southwest Asia — "He is your friend, your partner, your defender, your dog. You are his life, his love, his leader. He will be yours, faithful and true, to the last beat of his heart. You owe it to him to be worthy of such devotion." – Unknown
Airmen assigned as military working dog handlers can definitely relate to the devotion a K-9 has towards his handler.
"The bond between a MWD and their handler is very hard to break," said Staff Sgt. Justin. "I rely on [Oxigen] just as much as she relies on me. I devote most, if not all of my time to ensure she is at 100 percent."
The mission of the security forces MWD section is to protect, defend and deter any hostile threats by explosive detection and mitigation by using the MWD.
"Our primary responsibility here is force protection," said Justin, who is currently deployed from Fairchild Air Force Base, Wash., and a native of Tamuning, Guam. "We provide security and vigilance to the base and ensure no threats enter the base by searching vehicles for explosives or contraband."
"The MWD teams provide explosive detection capability as the first line of defense against improvised explosive devices at the vehicle search area," said Maj. Mike Jewell, Expeditionary Security Forces Squadron commander, and a native of Altus, Okla. "Additionally, the teams conduct perimeter, area and facility checks around the base, further ensuring no explosives are introduced onto the base."
We provide more of a psychological deterrent for the military members here, added Justin.
"Our MWD teams are a dual purpose weapon system, providing intelligence, surveillance, reconnaissance and strike capability," said Jewell. "The teams provide an additional level of force when responding to incidents. MWDs are the only bullet you can call back after pulling the trigger. The presence of a MWD is an invaluable psychological deterrent to would-be offenders."
Being at the top of their game is what every MWD team needs due to the nature of their duties and to ensure mission success. With several MWD teams on station and one team forward deployed, they spend upwards of 12-hours a day with their dog.
"We spend six hours every day switching off at the vehicle search area search pit down to road patrols," said Justin. "From there you are walking your dog, grooming them, playing with them, keeping them excited, happy and all that stuff."
Whenever the teams are not working at the VSA or doing road patrols, they spend their time training in order to be ready for whenever duty calls.
"Each team has to be 95 percent reliable at all times," said Staff Sgt. Matthew, MWD trainer. "It is my responsibility to train and maintain the proficiency of the dog teams. I identify any issues and correct them so that they are operationally capable to do what they need to do."
Receiving on average of at least 30 training sessions a month, the MWD teams train on as many realistic scenarios as possible.
"Here we have a lot of good open areas to train on buried aid placements, as well as route clearances, open area searches and weapon caches," said Matthew, who is currently deployed from Grand Forks Air Force Base, N.D. and a native of Dumfries, Va.
Currently the MWD teams are preparing for an upcoming move to a new kennel facility expected to be completed by June of this year.
"The current kennel is on about the tenth year of a five year facility," said Jewell. "Despite the best efforts of our Expeditionary Civil Engineer Squadron, the current kennels have deteriorated to the point that the health and safety of our dogs is in jeopardy."
Having the new kennel facility provides added benefits for the MWDs.
"The new facility will increase the quality of life for the MWDs," said Matthew. "It will have more added space for the obstacle course and give more area for controlled aggression training."
"Much like enhanced quality of life programs contribute to our readiness, these kennels will improve our MWDs readiness and resilience," said Jewell. "The new kennels will provide safe and healthy conditions to ensure they stay mission ready and continue to provide the first line of defense for the base."
By Tech. Sgt. Marie Brown
U.S. Air Forces Central Command Public Affairs
Published January 12, 2015
Staff Sgt. Justin, military working dog handler, holds his MWD Oxigen while Staff Sgt. Matthew, military working dog trainer, presents the bite sleeve to Oxigen during a training exercise at an undisclosed location in Southwest Asia Jan. 5, 2015. Currently the MWD teams are preparing for an upcoming move to a new kennel facility expected to be completed by June of this year. Justin is currently deployed from Fairchild Air Force Base, Wash., and is a native to Tamuning, Guam. Matthew is currently deployed from Grand Forks Air Force Base, N.D., and is a native of Dumfries, Va. (U.S. Air Force photo/Tech. Sgt. Marie Brown)
Military Working Dog Oxigen reacts to a simulated perpetrator during a training exercise at an undisclosed location in Southwest Asia Jan. 5, 2015. The MWD teams are a dual purpose weapon system, providing intelligence, surveillance, reconnaissance and strike capability. (U.S. Air Force photo/Tech. Sgt. Marie Brown)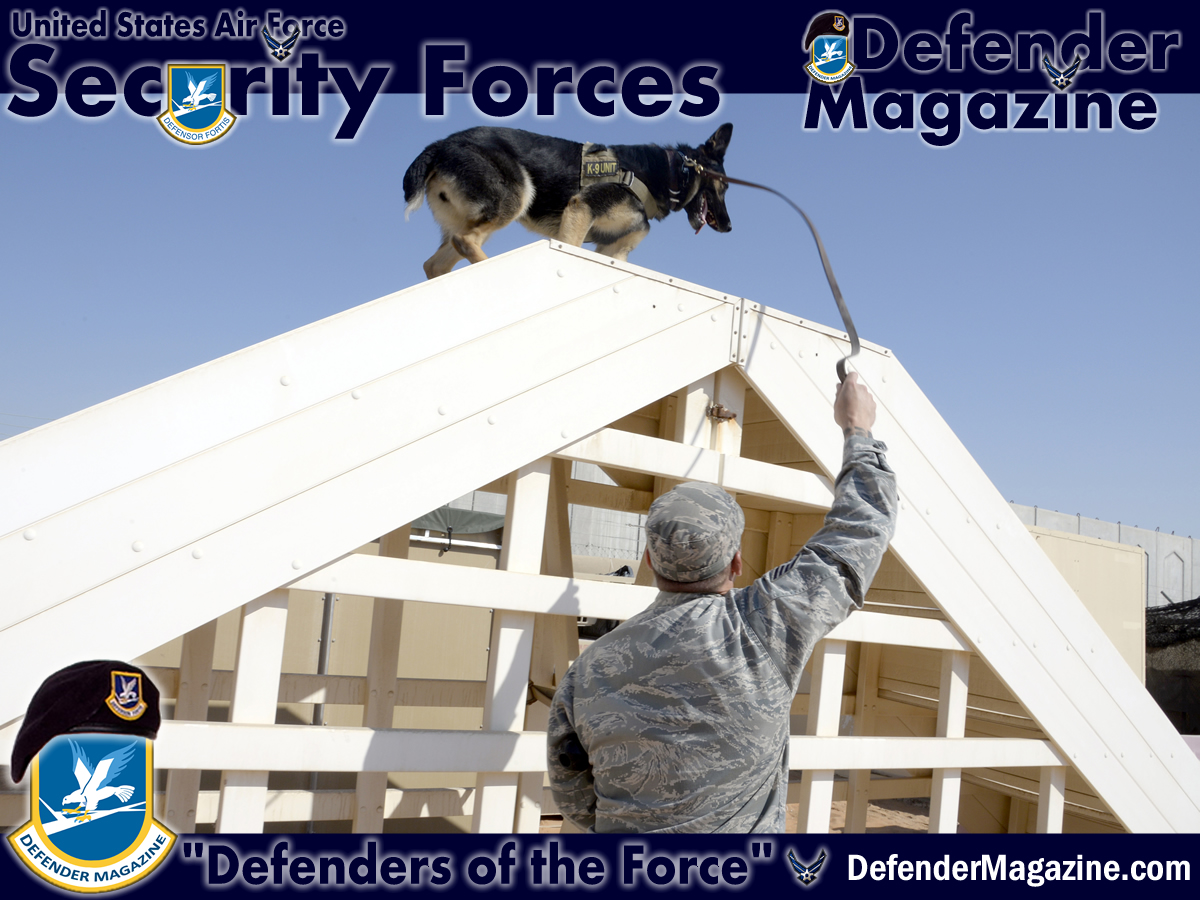 Staff Sgt. Justin, military working dog handler, runs his MWD Oxigen over the stairs a part of their obstacle course during an obedience training session at an undisclosed location in Southwest Asia Jan. 5, 2015. Receiving on average of at least 30 training sessions a month, the MWD teams train on as many realistic scenarios as possible. Justin is currently deployed from Fairchild Air Force Base, Wash., and is a native of Tamuning, Guam. (U.S. Air Force photo/Tech. Sgt. Marie Brown)
Staff Sgt. Matthew, military working dog handler, and his MWD Kalo perform a tactical obedience maneuver during a training exercise at an undisclosed location in Southwest Asia Jan. 5, 2015. Receiving on average of at least 30 training sessions a month, the MWD teams train on as many realistic scenarios as possible. Matthew is currently deployed from Nellis Air Force Base, Nev. (U.S. Air Force photo/Tech. Sgt. Marie Brown)
About Author
Comments are closed