8/14/2014 – MINOT AIR FORCE BASE, N.D. — This is the second in a three part series chronicling the journey of MWD handlers from technical training to kennel master.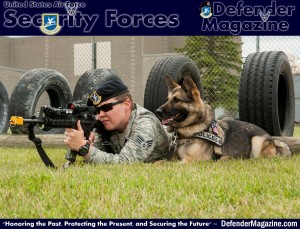 A strong team is often defined as a group of people who share a common goal and work together to achieve it.
However, sometimes a team consists of two individuals working side by side–and one of them has paws.
Senior Airman Heather Johnson, 5th Security Forces Squadron military working dog handler, and her five-year-old German Shepherd partner Cyndy, make up such a team.
Johnson grew up in a small town in Maine called Mechanic Falls, with only 3,032 residents. She said she has loved animals all her life, especially dogs.
"Growing up I owned a Dalmatian named Freckles, a Chihuahua named Moose and a Beagle named Shiloh," Johnson said. "Now I have three dogs of my own. My Yellow Lab Rylee, a Cockapoo named Cohen and a mix breed named Uno."
She dreamed of being a K-9 handler long before she joined the military. Johnson explained she thought she could become a handler soon after joining the Air Force, and was surprised to learn she would have to serve three years before realizing that dream.
"I'm glad I was regular Security Forces first," Johnson said. "I was able to learn to be a patrolman and gain experience before I picked up my first leash."
Though the wait was difficult and she was anxious to become a handler, Johnson stated she learned a lot in those three years and it helped make her more well-rounded in the long run.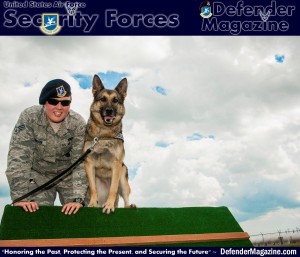 While at her first base Johnson deployed to Al-Udeid Air Base, Qatar. She spent a lot of time in the kennels, volunteering to help care for the MWDs.
"I saw the bond that the handlers shared with their dogs and I thought it was amazing," Johnson said. "It was like they had brought their best friend on their deployment with them."
Three years after joining the Air Force, and upon completing her training to become a handler, Johnson arrived at Minot Air Force Base and was introduced to her MWD Cyndy. Johnson explained that Cyndy was everything she had imagined her first MWD would be.
"I was completely overjoyed. I thought she was perfect," Johnson said. "She was the best looking dog in the kennels and once she got to know me better she followed commands really well."
Cyndy had been in her kennel awaiting a new handler for approximately two months. Johnson recalled that Cyndy was so excited to see her every day and would whine at her kennel door in anticipation.
"We clicked right away," Johnson said. "Once she realized I was coming to see her all the time we grew really close."
Working with Cyndy has made her job much more fun, Johnson said. She loves spending her days guarding the base, playing fetch and working side by side with a K-9 partner.
Johnson's day begins early, usually around 5 a.m., when she arrives at the kennels to feed Cyndy and get her ready for the day's mission.
After Cyndy has eaten her breakfast and Johnson has cleaned out the kennel and loaded her gear into her truck, the pair will leave for guard mount to begin their daily duties.
A regular work day for the two consists of patrols, random searches on vehicles entering and exiting the base, and searches in and around buildings and vehicles. The pair usually work 14 to 15 hours a day guarding the base and its assets.
"Part of what makes us a great team is that we both have a real passion for what we do," Johnson said. "It's like my passion for the job travels down the leash to her and you can see the excitement and dedication in her eyes."
Though Cyndy is small for her age, Johnson stated what she lacks in size she makes up for in personality and bite strength. She explained Cyndy is a sweet dog who loves people, but she knows the difference between when it is time to play and time to work.
Johnson said she has built a strong bond with Cyndy. Training to perform their daily duties comes easy to the two of them, and they put in a lot of hours pursuing that end.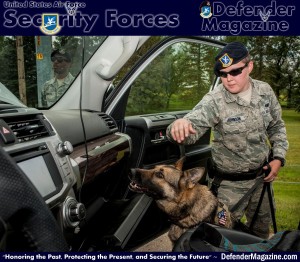 "I like to do crazy things during training to test her limits and see how she reacts to realistic situations," Johnson said. "Instead of practicing the same way every time, I try to switch scenarios around to make them closer to what would happen in real life."
In addition to their duties on the base, Johnson and Cyndy also provide security for events off base and demonstrations for the local community, said Johnson.
One memorable experience the team shared was providing security during an event at a Native American reservation near Bismarck, North Dakota, Johnson said. She went on to explain, during a performance by a group of dancers Cyndy was following along to their motions with her head.
"She was really excited to see all of the motion," Johnson said. "It was a really fun time for both of us."
Though Johnson stated she and Cyndy make a strong team, she also explained creating a bond with a K-9 takes a lot of time and effort. She said she spent hours with Cyndy in her kennel studying for her Staff Sergeant test, and reading the Professional Development Guide to her. Johnson felt she needed to study anyway, and for her it was better to sit on the cold kennel floor bonding with Cyndy than to study on a comfortable couch alone.
"Rapport is what builds a strong team, hands down." Johnson said. "Spending time with your dog is what's going to create trust and let you know that when you give a command they won't think twice about following it."
by Senior Airman Stephanie Morris
Minot Air Force Base Public Affairs