7/29/2014 – JOINT BASE LANGLEY-EUSTIS, Va.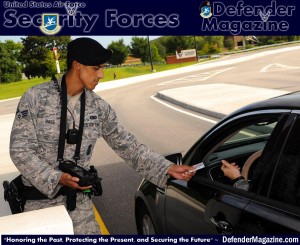 Because certain forms of identification are not compatible with the Defense Biometric Identification System, U.S. Air Force Senior Airman Sandra Chisholm, 633rd Security Forces officer, said some cardholders may have to obtain appropriate identification from either the Visitor Control Centers or Military Personnel Section.
Retirees with IDs created before 2003 should visit the MPS prior to Jan. 1, 2015, to attain an up-to-date ID card; contractors with locally-generated badges must visit the VCC for their new IDs.
7/2/2014 – JOINT BASE LANGLEY-EUSTIS, Va. — Joint Base Langley-Eustis, Virginia will begin implementing a new entry control system beginning the week of July 8, as a means to more efficiently and accurately regulate installation access.
The new system, Defense Biometric Identification System (DBIDS), is a Department of Defense-owned networked database that uses handheld scanners to provide security feedback at entry points and determine authorized access to an installation.
DBIDS uses continuously-updated databases to verify personnel status through ID cards, such as information pertaining to credential status or identifying those who have reported a lost or stolen ID card.
"The DBIDS system provides a means for automated installation entry control, where identification cards can be verified against databases or restricted lists," said John Challis, 733rd Security Forces Squadron deputy director. "This allows us to easily verify access authorization and identify fraudulent ID or [common access cards], which eliminates concerns of unauthorized entry."
Personnel with DOD-issued ID cards are registered through the system upon entering the installations' entry points, while personnel who have previously-issued or locally-produced badges, such as contractors, will have to register directly with the DBIDS system and obtain newly-printed DBIDS ID cards from the Visitor Control Centers, said Challis.
Full DBIDS integration requires periods of intermittent ID card scanning, which allow entry controllers to capture identifiable information on all personnel accessing JBLE, he explained. That information will be stored in the installation database and will allow for ease of access prior to full system implementation.
Langley Air Force Base and Fort Eustis will begin using DBIDs with full implementation taking place over a 90-day window, said Challis. To alleviate possible traffic concerns, DBIDS will be employed in a series of phases during that 90-day period, which will slowly adjust to preserve a smooth flow of traffic accessing JBLE, he said.
While JBLE community members may experience some delays initially, the overall impact should be minimal and will afford improved protection measures, said Challis.
"An initial scan may take three to five seconds, but after that, the process should be instantaneous," said Challis. "Ultimately, DBIDS serves as a tool to enhance our efforts to effectively secure the installation from unauthorized access."
For more information, contact the Langley VCC at 764-7770 or the Fort Eustis VCC at 878-1878.
by Staff Sgt. Katie Gar Ward
633rd Air Base Wing Public Affairs
~