377th SFG Defenders work together and perfect tactics.

KIRTLAND AIR FORCE BASE, N.M. — Defenders from the 377th Security Forces Group participated in a force-on-force training at Kirtland Air Force Base, New Mexico, Dec. 6 and 13, 2019.  The force-on-force training provides an environment where Defenders from the 377th SFG work together and perfect tactics for situations where the different Defender squadrons are required to work together.
"The purpose of force-on-force is to get [Defenders from the Group] integrated," said U.S. Air Force Senior Airman Dakota Spikes, 377th SFG response force leader.
Squadrons within the SFG have their own mission sets. However, if a security incident occurs, the squadrons are going to defend everything within the gates.
"Say something happens and they have to do a recall," said Chris Batta, 377th SFG chief of training. "Everybody gets recalled and they just get weapons, ammo and vehicles and they send them to the fight. So no matter what, you could be in a mix of everybody but you all have to know what to do when the time comes."
A mix of Airmen from different squadrons coming together to handle security situations has the potential to lack chemistry needed for the task.
"That is why we don't deviate between the [the squadrons]," said Batta. "The tactics are the same, so if you have a combined group everybody knows how to execute the same way."
The force-on-force training is only required by regulations to occur once a year, said Batta.
"Reality is, we want to do it more than annually," said Batta. "We want to be proficient and once a year isn't good enough. Hopefully, we do this once a quarter. The more we do it, the better we get at it. That is where our goal is right now, to do it as much as possible."
In addition to conducting the training more often, Batta is looking to improve the quality of the training.
This past training, all Defenders' magazines were filled with blanks. Batta wants Defenders to use simulated rounds, which he describes as paintballs.
"With blanks, there is no real danger, there is no real need for cover and concealment," said Batta. "But once you start getting hit with rounds, everything becomes more realistic."
According to Batta, the more realistic the training, the better quality the training is for the Airmen, which means readiness is improved.
"This [training] just gets everybody out of that normal rut," said Spikes. "This is fun training. Getting to actually come out and execute deployed-type exercises is always a fun time.
By Airman 1st Class Austin J. Prisbrey, Kirtland Public Affairs / Published December 18, 2019
A Defender from the 377th Security Forces Group fires blanks at opposing forces during a force-on-force training at Kirtland Air Force Base, New Mexico, Dec. 13, 2019. The force-on-force training provides an environment where Defenders from the Group's different squadrons work together to perfect tactics for situations demanding interoperability. (U.S. Air Force photo by Airman 1st Class Austin J. Prisbrey)
Defenders from the 377th Security Forces Group advance towards a target during a force-on-force training at Kirtland Air Force Base, New Mexico, Dec. 6, 2019. One of the purposes of force-on-force training is to increase the chemistry between Defenders of the Group's squadrons. (U.S. Air Force photo by Airman 1st Class Austin J. Prisbrey)
U.S. Air Force Staff Sgt. Matthew Mead, 377th Security Forces Group military working dog handler, provides overwatch during a force-on-force training at Kirtland Air Force Base, New Mexico, Dec. 6, 2019. The 377th SFG is looking to improve the quality of the training by having defenders use simulated rounds, paintballs, instead of blanks. (U.S. Air Force photo by Airman 1st Class Austin J. Prisbrey)
A defender from the 377th Security Forces Group searches for opposing forces during a force-on-force training at Kirtland Air Force Base, New Mexico, Dec. 6, 2019. The 377th SFG is looking to improve the quality of the training by having defenders use simulated rounds, paintballs, instead of blanks (U.S. Air Force photo by Airman 1st Class Austin J. Prisbrey)
U.S. Air Force Staff Sgt. Matthew Mead, 377th Security Forces Group military working dog handler, shouts commands during a force-on-force training at Kirtland Air Force Base, New Mexico, Dec. 6, 2019. The force-on-force training is only required to be held once a year. To increase proficiency, the 377th SFG aims to hold the training once a quarter. (U.S. Air Force photo by Airman 1st Class Austin J. Prisbrey)
Defenders from the 377th Security Forces Group prepare for a force-on-force training at Kirtland Air Force Base, New Mexico, Dec. 6, 2019. The force-on-force training is only required to be held once a year. To increase proficiency, the 377th SFG aims to hold the training once a quarter. (U.S. Air Force photo by Airman 1st Class Austin J. Prisbrey)
A Defender from the 377th Security Forces Group searches for opposing forces during a force-on-force training at Kirtland Air Force Base, New Mexico, Dec. 13, 2019. The force-on-force training provides an environment where Defenders from the Group's different squadrons work together to perfect tactics for situations demanding interoperability. (U.S. Air Force photo by Airman 1st Class Austin J. Prisbrey)
U.S. Air Force Airman Juilanne Niemi, 377th Security Forces Group patrolman, searches for opposing forces during a force-on-force training at Kirtland Air Force Base, New Mexico, Dec. 13, 2019. The force-on-force training is only required to be held once a year. To increase proficiency, the 377th SFG aims to hold the training once a quarter. (U.S. Air Force photo by Airman 1st Class Austin J. Prisbrey)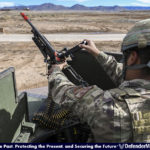 A defender from the 377th Security Forces Group loads a M240B machine gun during a force-on-force training at Kirtland Air Force Base, New Mexico, Dec. 13, 2019. The 377th SFG is looking to improve the quality of the training by having defenders use simulated rounds, paintballs, instead of blanks. (U.S. Air Force photo by Airman 1st Class Austin J. Prisbrey)
Defenders from the 377th Security Forces Group advance towards opposing forces during a force-on-force training at Kirtland Air Force Base, New Mexico, Dec. 13, 2019. The force-on-force training provides an environment where Defenders from the Group's different squadrons work together to perfect tactics for situations demanding interoperability. (U.S. Air Force photo by Airman 1st Class Austin J. Prisbrey)